The weekend just gone was one of the funest weekends spent in Bournemouth I can remember.
I'd spent the last 4 days up in Cumbria looking at different types of grass that grows on Sand dunes, so by comparison just to be on a beach where my face wasn't being raped by the wind, and I didn't need to wear 4 layers would have been nice. But what I got was a bit better than that.. On friday I travelled almost the entire length of the Country sampling the delights of numerous train stations along the way with Birminham new street and Wolverhampton possible being the highlights, and eventually I arrived in Bournemouth.
Saturday.
Got up for a dawny on saturday, and headed over to a local reef that was meant to be pumping with Mason Alderman and Sam Plank... We were greeted by double overhead sets peeling off the reefs at either side of the bay, so after watching in awe for a bit Sam and Mason suited up and got stuck in.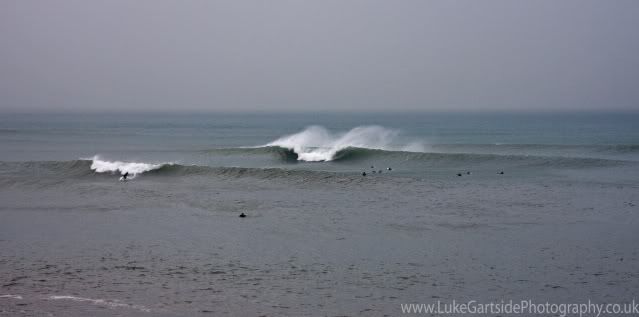 The sight that made it all worth it..
Getting in and out proved pretty difficult, and shooting from the cliff I saw numerous people get washed over the rocks.... which to be fair was very funny
Dropping in on a big one..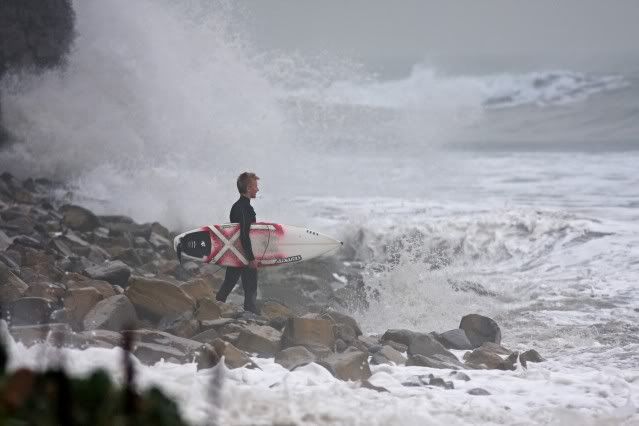 Sam heading out
Throwing buckets.
Mason on his first wave of the day.
Afterwards we headed up to the main car park, with a view to going and checking out the reef on the other side of the bay. As we got up there it struck us how few people there were around and after talking to a few locals who were sitting around in their vans, we found out that there were just two guys out on the reef.. which was pretty rare in conditions like this. After some phone calls we decided to head back to the piers, where there was a fun easterly running. Where it transpired that everyone had tried to get out to the reef, but failed due to roadworks that had created a two or so hour tail back, so they'd just had to sit in traffic getting more and more frustrated about the epic waves they knew they were missing. By the time we got to the pier the sun had come out and feeling pretty smug with ourselves and our ability to get up early based on this recently acquired knowledge, we all suited up and I jumped in to take some water shots.
Mason's never too tired to smash a Bournemouth lip.
The waves dropped off as afternoon turned to evening so pleased with the days results, we decided to head home.
Sunday
On Sunday we got up for another dawny, this one yielding less good results than the day before, heading out to the same reef, where it was quite a bit smaller and after walking almost all the way out to the reef on the west side of the bay we got blocked off by the high tide, so we begrudgingly headed back to the pier.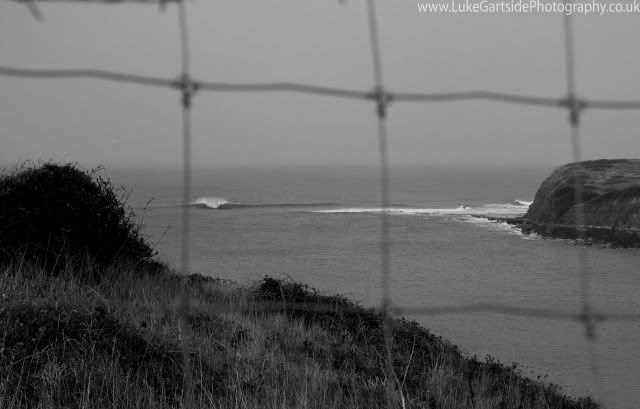 The wave we couldn't get to..
Back at the pier we hang around for a bit waiting on the tide, and when it eventually hit the sweet spot, the easterly swell started to throw up some nice waves.
Mike hanging 5
Mason cutback.
Mike styling it.
Mason flying off the lip
A sunlit wave.
So a good weekend of shooting all in all and nice to get another water shoot in before the water gets too cold to press the camera trigger.. although hopefully there's still a while till then. Next goal is try get in at the artificial reef.. check back.